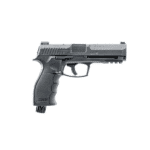 Umarex T4E HDP50 Pistol (11 Joule)
Umarex T4E HDP50 Pistol (11 Joule)
R3,100.00
R3,100.00
Description
Load the six hefty .50-caliber projectiles into the tube magazine under the barrel and push the CO₂ capsule securely into the grip. Then pierce the capsule with a light blow at the bottom of the grip and the optical and tactile pressure indicator will show that you're ready to fire. The HDP 50 is distinguished by a hardly noticeable recoil and an easy-to-use fibre optic front sight. If you drop the gun inadvertently, the trigger blade safety ensures that it won't fire.
TECHNICAL DATA
System CO₂ Defense-Training-Marker
Caliber .50

18 Shots off a 12g co2 cartridge

Magazine capacity 6 shot(s)
Trigger Double Action only
Automatic Trigger Safety
Length 213 mm
Weight 682 g
Energy <11.0 Joule(s)
There are no reviews yet.