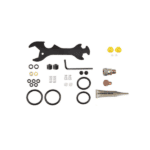 PCP 3 Stage Air Pump 4500PSI
PCP 3 Stage Air Pump 4500PSI
R2,600.00
R2,600.00
Description
High-pressure hand pump for filling PCP rifles, pistols, 13ci, 48ci bottles/tanks.
Ideal for remote areas where scuba cylinder filling is not done.
Pumps up to 310bar.
Pumps to 4,500 psi/310 bar (always use the correct pressure rating for your gun)
20″ flexible micro-bore hose (inside a spiral steel cage)
Quick-disconnect hose with female coupling
Moisture filters
Integral manometer (air pressure gauge)
Test plug so you can check for leaks
Comfortable, ergonomic handles
Easily accessible bleed valve
Folding footplate
Includes accessory pack with spanner wrench screws and bleed off valve.
FUNCTION TEST Pump 400-500times to reach 20MPA for a 0.35L tank
DURABILITY Continuous work for 2H under 15MPA
Overall Length of Pcp Pump 3 Stage: Close 650mm Open 1150mm
There are no reviews yet.