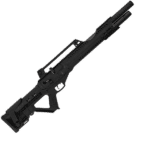 Hatsan Invader Auto (5.5)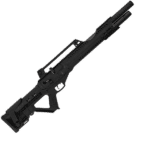 Hatsan Invader Auto (5.5)
Description
Semi-Auto Action pre-charged pneumatic (PCP) air rifle.
Available in .177 (4.5mm) and .22 (5.5mm).
Fully shrouded, precision rifled and choked barrel for accuracy.
Detachable 14-shot magazine in .177 (4.5mm), 12-shot magazine in .22 (5.5mm) and 10-shot magazine in .25 (6.35mm) caliber.
Includes 3 magazines.
Picatinny rail along with the receiver for 22mm scope mounts
Tactical style ambidextrous stock with thumbhole and elevation adjustable cheek rest.
Spare magazine carrying slot in the stock for 1 spare magazine.
 3 Picatinny accessory rails – beneath and on the sides of the forearm.
Rubber butt pad.
Detachable aluminium air cylinder tube (255cc). Spare cylinders are available.
Rotating dust cover for the air filling hole on the air cylinder.
The built-in pressure gauge on the air cylinder, to monitor the cylinder pressure.
Includes quick-fill nozzle & air cylinder discharging cap.
Patented anti-knock system to prevent discharge of the rifle when the rifle is knocked or bounced.
Manual safety.
Detachable carry handle.
Elevation & windage adjustable fiber optic rear sight built into the carry handle.
Elevation adjustable fiber optic front sight built into the carry handle.
Black metal trigger.
Sling swivels.
There are no reviews yet.