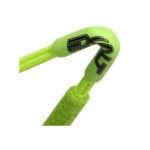 Exalt Flexdisk Cleaner Fluffy Barrel Swab
Exalt Flexdisk Cleaner Fluffy Barrel Swab
R150.00
R150.00
Description
New FlexDisk cleaner slides past paint residue on the way in, and then pivots and seals to the barrel bore when removed to remove all the mess.
Moulded, ultra-tough shafts resist breaking and shattering and fibrous shaft polishes bore and removes oily paint residue.
Made for 0.50cal!
Flexdisk cleaner seals and pulls paint out
Rugged rubber design resists wear and damage
Flexible construction will not snap or break
Modular interchangeable shafts
Polymer components won't scratch barre
There are no reviews yet.